This document outlines how to configure your Mac OSX machine running Apple Mail with our Hosted Microsoft Exchange service.
Please note your circumstances may differ slightly due to software version, machine or internet service provider configuration, however the settings provided here will assist with successful configuration of your computer email software.

Important
When configuring your email software or device, please consult the welcome pack instructions for server information, username, password, and specific settings. This information is provided as a generic guide alongside your specific setup information provided by our team.

Need Help?
In the event you are not able to properly configure your email software using this guide, please visit our website and open a support ticket. Our team is available and ready to assist.
Step 1
Open Apple Mail and create a new email account.
Use the credentials and configuration information contained in your welcome guide to populate the following dialogs.
NOTE: Please use the credentials and server values as shown in your welcome pack.

Step 2
Set your incoming mail server. Make sure the account type is set to Exchange 2007.
Enter the username and password details contained in your welcome pack.
Step 3
Account Summary is shown. Select Take account online.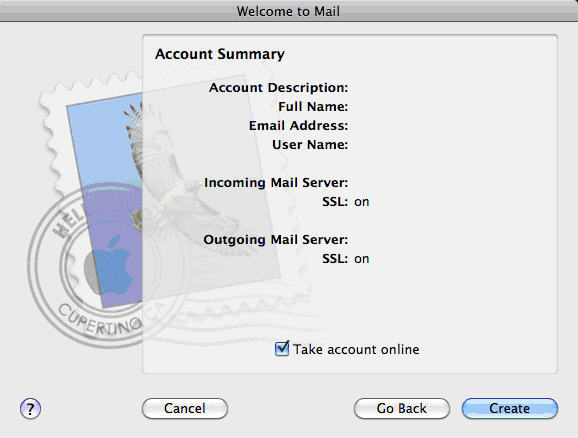 Step 4
After clicking create in the previous step, you will be presented with your Hosted Exchange mailbox.
NOTE: If you are prompted with an additional username and password dialog, use the format Exchange\Username, followed by your password in the appropriate field.
Step 5
Once you have configured the Hosted Microsoft Exchange account, navigate to the Mailbox Behaviours, then check the following values have been set for your mailbox.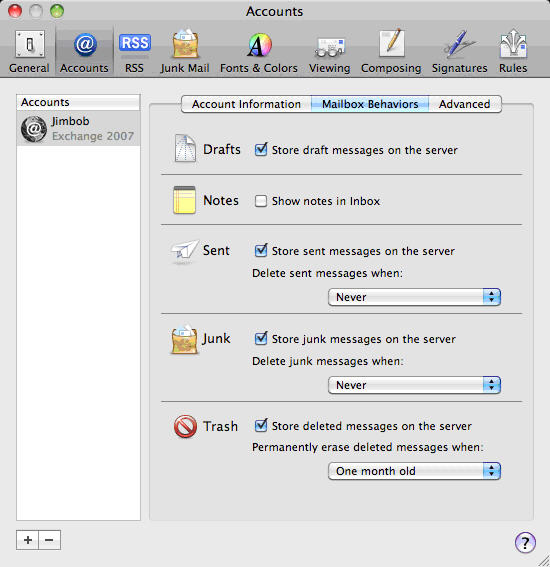 Step 6
Click on Advanced and ensure your mailbox is configured as shown here.
Need to use Address Book and iCal ?
Simply create an account as you would normally, using your username, password and account type set to Exchange 2007.
That's it.
Now your emaill software should be configured and ready for use with our Hosted Microsoft Exchange service.